3 Reasons Why Outpatient Healthcare Needs HLAC-Accredited Laundering
September 24, 2020 by Nixon Medical
All types of industries require laundering services, from healthcare and hotels to manufacturing and restaurants. There are laundering companies that serve all of these industries, using the same facilities, delivery trucks, and operating procedures for each. Outpatient healthcare centers, however, produce hazardous medical linens and laundry and therefore require specialized medical laundry services to minimize risks and maximize health, safety, and peace-of-mind for patients.
In this blog, we're explaining why outpatient healthcare centers specifically need specialized laundering services and what an outpatient-specific laundering program should include for you.
1. The Risks of Cross-Contamination Are Abundant
Outpatient healthcare centers create medical laundry prone to bloodborne pathogens and other hazards. If not handled properly, you run the risk of cross-contamination between clean and soiled linens and hazardous exposures to staff and patients.
2. Improper Sanitation Can Spread Infectious Diseases
Soiled healthcare laundry must be carefully handled, using biohazard labeled containers, color-coding systems, and other protocols that mitigate the risk of spreading infectious diseases to staff, patients, and subsequent family members.
3. There Are Industry Regulations You Must Comply 
The facilities, trucks, and techniques your laundry service provider uses should meet OSHA, CDC, and HLAC standards, designed for the utmost sanitation.
What an HLAC-Accredited Laundry Program Looks Like
The Healthcare Laundry Accreditation Council (HLAC) is a nonprofit organization that inspects and accredits laundries that process reusable textiles for healthcare facilities. When a laundry services is HLAC-accredited it means that the program has met federal regulations and standards, and best industry practices for their facilities, policies, procedures, and training programs. In the eBook: How Safe Is Your Medical Laundry Program & Provider, you can find more details on healthcare laundering, including how to assess your outpatient healthcare center's protocols for protection against COVID-19.
The Benefits of HLAC-Accredited Laundering
Meets CDC, OSHA, APIC, & Joint Commission Standards
Eliminates risk of cross-contamination
Uses state-of-the-art laundering techniques
Features healthcare-specific facilities and delivery vehicles
Provides your clinicians and patients with peace of mind
Ensures maximum sanitation and safety of your apparel and linens
Inside Look at a Healthcare-Specific Laundering Process
Nixon Medical operates the most advanced, healthcare-specific laundering facilities in the country. Through a carefully developed workflow, we eliminate any risk of cross-contamination through negative airflow and physical separation between soiled and clean product in our facilities and delivery vehicles. We process all products using state-of-the-art laundering techniques that meet or exceed hospital standards.
Take a look at our workflow that ensures the utmost sanitation of medical apparel and linens.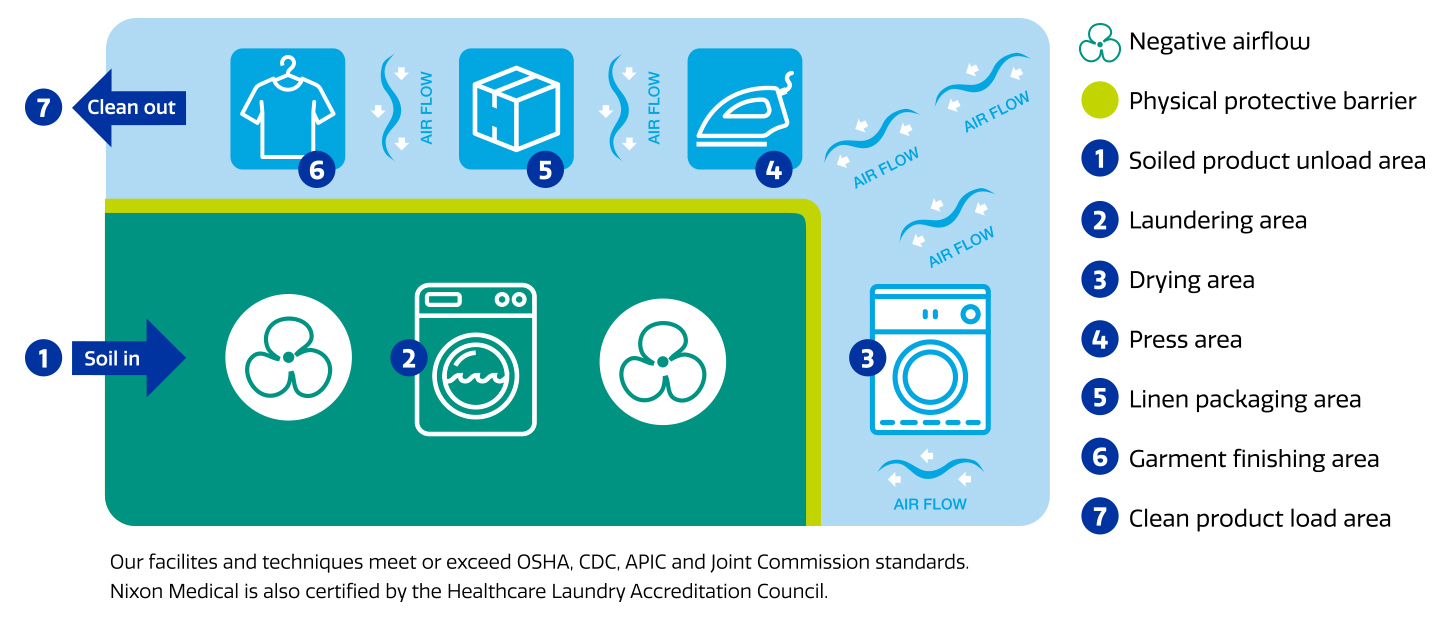 Do You Need to Reassess Your Laundering Program?
If your outpatient healthcare center is still using a laundry vendor that services hotels, restaurants, and manufacturing facilities, in addition to your facility, it might be time to reconsider. Contact the service specialists at Nixon Medical today to go over your laundry program needs and medical linen and apparel inventory levels to ensure you're giving your staff and patients a safe and compliant experience.